Happy Friday! I had a fun post planned with this week, but then I worked 4 days plus my class plus came home last night so no time for it! So instead I will keep up the trend of doing Five On Friday! Enjoy :)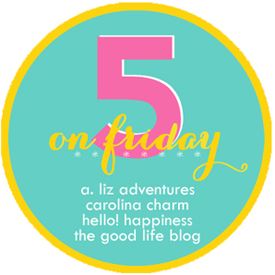 1. I'm home on Interterm break til next Tuesday and it feels so good! I love being home! If only there was more time! So many people I want to see while i'm home!


2. My 'baby' cousin turned 5 this past week! Crazy to think about! I miss having cousins to go see and spoil and hold them for hours!! :(
3. Speaking of break, I get to see my favorite twins tomorrow and couldn't be more excited!! I've missed them times a million!
4. I am nervous about spring semester! I don't think i'll be very nervous for first day, just because I know someone in every single one of my classes. I'm just nervous about getting into the routine of 5 classes plus i'll be working everyday for atleast an hour. So I'm nervous about getting into a routine of class, work, homework, a little me time, excercise (been starting to do exercise videos), writing blog posts (hopefully I can get a bunch done while I'm home and on weekends) & Youtube! Wish me luck! This routine starts Wednesday!!
5. I just realized I never did a post over how fall semester went, so will do one and for interterm! Come back Monday for some fun blog posts & I would love to do a Q&A so leave questions below!!
Happy Friday Friends :)